There are many reasons for my love of October. The enthusiasm of Halloween festivities. The sweet, changing energy. The celebration of National Indigenous Peoples Day and World Mental Health Day and National Coming Out Day, the love and recognition and conversation that come with them.
But my love for October reached new heights when I recently learned that October also celebrates Filipino-American History Month, a month for the recognition of history and the embracing of heritage. (Below are photos from when I visited the Philippines in December of 2016. The landscape photo was taken on my film camera!)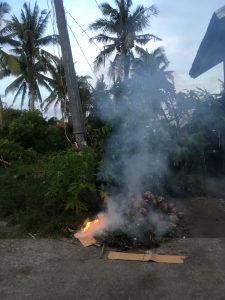 On October 7th, I half-danced out of my 11 a.m. RnM rehearsal and rode the train to smooth tunes and a Filipino event at Reading Terminal Market. Among Reading Terminal's local haunts and vibrant tourists were vendors featuring Filipino delicacies, cooking demos by renowned Filipino chefs, and screenings of short films about Filipino food movements. Even for a local Philadelphian, Reading Terminal is hard to navigate on a lovely autumn Saturday amidst lunch rush and the dizzying similarity of neon lights. I easily surrendered my plan, and myself, to the chaos and the language-sounds of home.
I explored artlessly. I stood in line for ube cupcakes and shared my resignation with fellow Filipinos who were near me in line. I happened upon packaged snacks and was recognized by other Mawrters, who exchanged names and vague familiarity and ideas for what to bring home to loved ones. I bought ube puffs for my mama and mango slices for myself and tried my chance at a demo sample of chicken adobo and lumpia, flavors of every staple Filipino meal. I missed the film screening, missed my train, and found lovely, Filipina friends from Bryn Mawr with whom I'd spent a day when I was in the Philippines last winter. We rode the train back to campus in cozy silence. I felt loved.