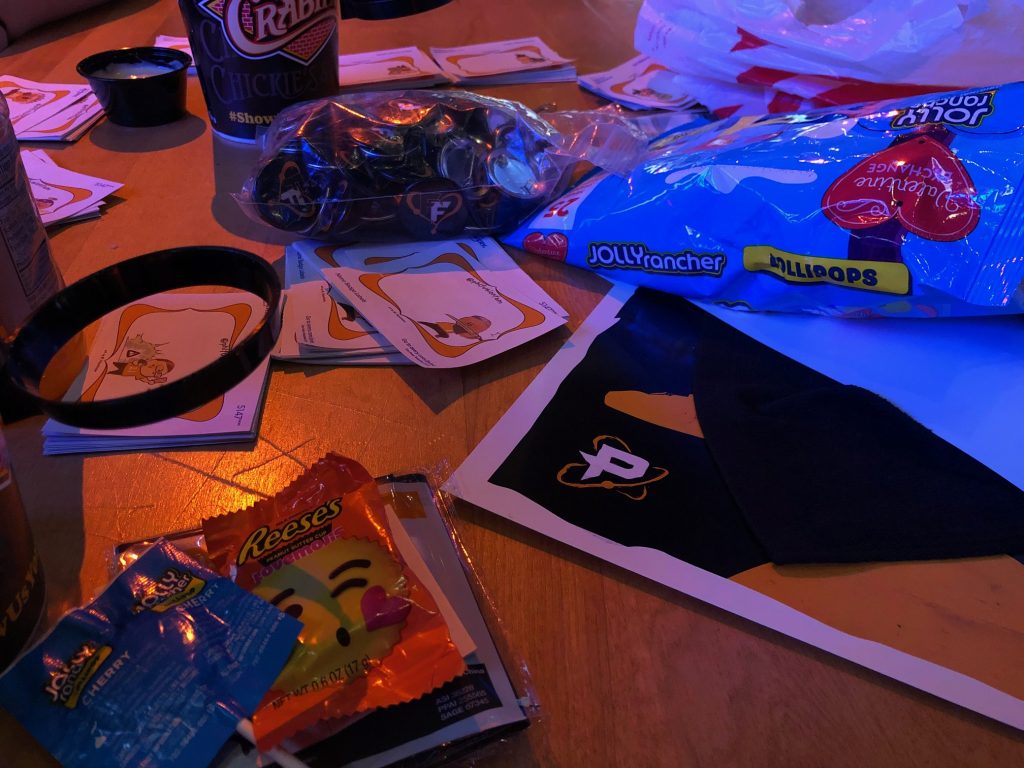 I made the local train in the early evening, and the city felt on the edge of color as our trio swam through the vibrant streets. Now I look back and imagine the inside of a video game. They're complex, creative, immersive, and interactive in the way that a lot of things are. Even though video games are often associated with children, we're capable of learning a lot from them; I had to learn to appreciate them pretty late in life. Now I embrace being bad at certain things (I'm bad at video games) and loving them anyway. I loved Philly before but I hold a new pride for my city now (and understand sports fans that much more. Go birds.) I think of people as having lore in their histories. Overwatch League certainly has lore. And my esports origins began over a year ago.
More than the day of love, Thursday, February 14th marked the return of the Overwatch League to international screens, after a six month off-season that left fans eager to carve time out of their schedules for live streamed games or local events like the one we were headed to and had promised to attend. Last year was the premiere season of a league formed around the game Overwatch. From the three-year-old multiplayer game emerged an entire franchise; young professional players represent cities from Shanghai to Houston, compete live at an arena in Los Angeles with the matches broadcasted free of charge to audiences watching from home. The league bloomed its inaugural season from twelve original teams in 2018 (holding the hearts of passionate, seasoned fans who for months followed them through everything imaginable), to a total of twenty entering the ring this year, (eight buzzing from their first chance to perform, and the original twelve making efforts to hold their ground).
Philly is one of them. Last summer, they took their underdog roots to the Season One Grand Finals in New York's Barclays Center. There they competed to hold the name of Season One Champion. I took to the seats and streets to support my team under orange lights, sleepless but energized, surrounded by loved ones seven months in the making. Here, at an opening day party to watch the first-game rematch from Fusion's home city, I celebrated brotherly love that I found in new local friends, passionate crowds rooting for a team that embodies my city's spirit, and this colorful video game that opened many moments of learning and appreciation.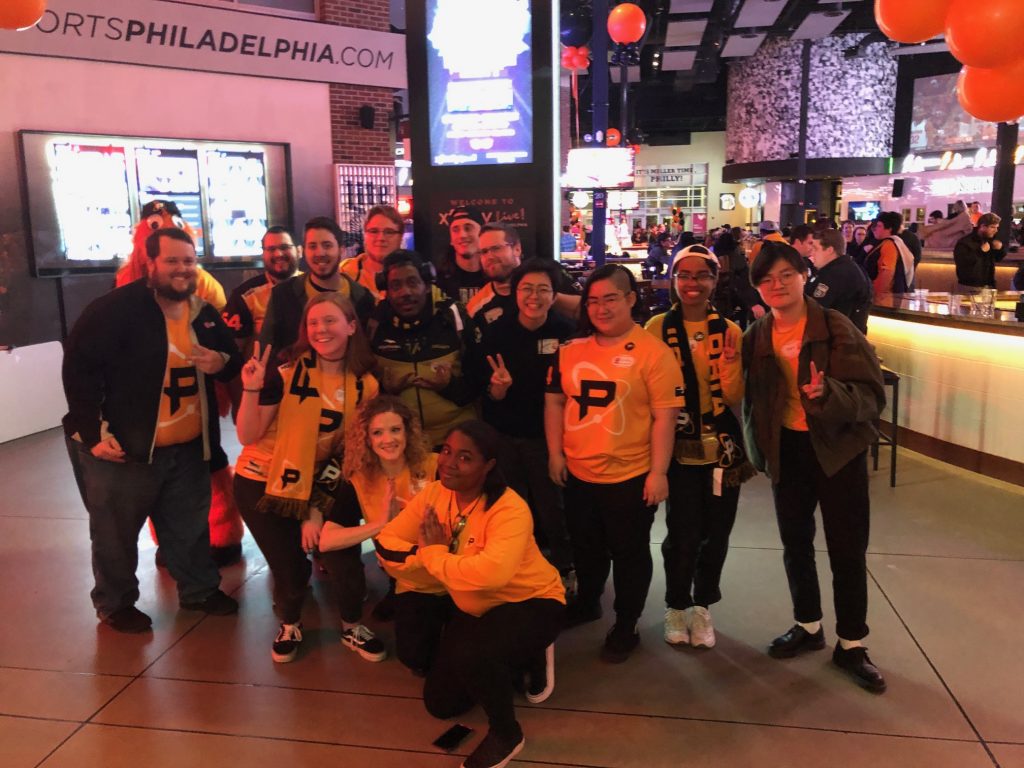 I made the local train in the early evening. But (re: lore) how did I get here?
My partner in crime, Sandy Liang '20, made the leap with me into this unfamiliar world when we became regulars last January. For our dogged city Philadelphia to announce a team in the Overwatch League was, for us, unimaginable. So of course we had to support them. We eased our way into the waters: I watched their first match from my PS4 where I had been playing badly for maybe a year now. Sandy learned the names and histories and relayed them to me confusingly. I let the professional element absorb. We learned how to use Discord to join the team's individualized server, we crushed fears to engage with the growing community there, and we made a place for ourselves.
We laughed online and met people at events like this. From usernames and animated icons we learned more about people than our roots in this mutual interest: people like us who grew up in or near Philly, others on the east coast without hometown teams,
who are just visiting, or who dream of or plan to move here in the near future, people in Europe or Asia who feel the Philly energy somehow, their work, their pets, and more. I've reconnected with friends from middle school over our love for the team. People have recognized me or my merch at Bryn Mawr, on evenings looking for dinner in Chinatown, and even at conferences in New York. Months of communal stressing about matches, either online or returning to now-familiar places to watch together, created organic local and international friendships. They have expanded beyond Philadelphia Fusion to spending Thanksgiving and New Years with these friends I made online, cooking and laughing and reminiscing. (The friends I mentioned, who I explored & watched horror films with during fall break? The same sweet friends I met here.)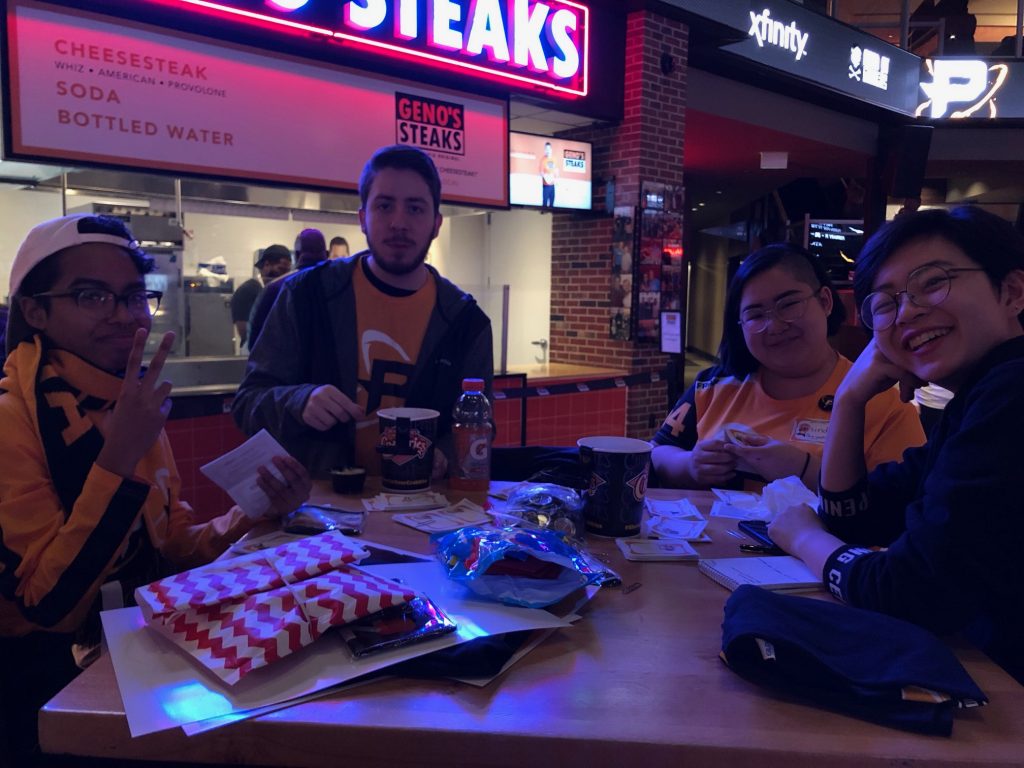 We celebrated this return to the stage with a return to Xfinity Live. The place had become a home for us, from meeting the team there during their first Homecoming last May to having impromptu dance parties during our playoff games in July. We brought Hannah Chinn '19 for her first esports experience and our friends brought adorable Valentine's gifts, covering the table among community name tags and pins we had made for the Fusion local fan club. The moment was pretty surreal: together we remembered a full year of highs and lows and changes, friendships that grew alongside the team as we had the chance to engage with them and one another online and then off. We remembered places where we planted our roots. We remembered easier and uncertain times, learning moments, and wholehearted exchanges like the giving of holographic Valentine's cards.
Needless to say, Fusion won the rematch (they had lost the Championship; but who says there's never a chance for comebacks?) That's what the team embodies: a city underrated, a fighting spirit, a community capable of going to the ends and back.