A visiting professor at Bryn Mawr, Stephen Vider, recently curated an exhibit in New York that collected pieces of art, narrative, and personal experience to imagine a history of how intimate spaces of home and emotional care bred resistance and activism throughout the HIV/AIDS crisis. (For months now, I have been thinking about how little I know about this history — my history, not too far in the past that had I been born just a decade earlier I may have felt the earthquake in my own circles — as an individual belonging to the LGBTQ+ community. So when I received word from a professor of mine about the opportunity to learn, I absolutely had to take it.)
On Friday, Sept. 29, I joined about thirty other students aboard an early bus to Manhattan to experience the exhibit first-hand. The walls, floors, and stairwells of the Museum of the City of New York are decorated with local art and histories, such as those pictured below in a photograph of the Croton Aqueduct over Pocantico River by Nathan Kensinger and an engraving of the same view by William James Bennett.
An amalgamation of visual art, photography, and film arranged in a home-like space, the exhibit "AIDS at Home: Art and Everyday Activism" expressed commentary on creations of resistance, community, art and home. Artists came forward to memorialize their ideas about the personal and the political, as well as loved ones lost and lives celebrated in the form of artistic archive work, made during the '80s crisis and brought to life through Vider's vision. The work specifically makes an effort to celebrate, visualize, and re-center the narrative around LGBTQ+ communities of color. (Pictured below: "Scott Shaving" (1985) by Vincent Cianni & "Kachin and Michael in Michael's Apartment" (1987) by Susan Kuklin)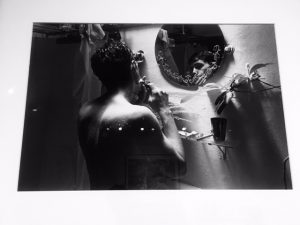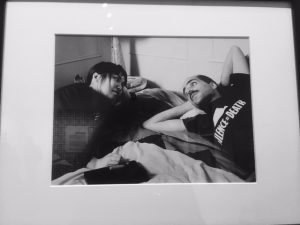 We had the opportunity to experience the exhibit with Vider's guidance and were encouraged to explore the space on our own. We returned to the ground level of the museum for lunch, and had the chance to hear from five of the featured artists, each threading together an individual narrative of emotion, loss, community, and growth.
Among the artists present were Latinx photographer Luna Luis Ortiz (who took photos of himself and his LGBTQ+ family of color after his infection with HIV), found materials artist Eric Rhein (whose work embraces body and spirit regarding his emotional experience with HIV), memoirist Lori Grinker (creator of an experimental collection regarding her brother's death), transgender performance artist T De Long (who remembers late partner Chloe Dzubilo), and filmmaker Juanita Mohammed Szczepanski (member of the Women's AIDS Video Enterprise). Their openness was inspiring, as was the passion with which they expressed themselves wholeheartedly.
From issues of housing discrimination to ideas of chosen family and the home as a space for love and activism, Vider and the artists spoke to the exhibit's heart: that efforts of art-making and home-making — with regard to history, politics, and marginalized communities — embody, themselves, manifestations of everyday resistance.
I am especially charmed by a piece  by Jenna Gray of PBS Newshour, centering Stephen Vider and the exhibit's heartfelt meaning.
"Health is not just medical attention," Vider tells Gray. "It's about emotional care and about all the different ways that home and family are meaningful. Creating home and family and creating art are themselves acts of activism with lasting effects for people."
The exhibit is open until Oct. 22 at the Museum of the City of New York!