Over fall break I returned to my home in beloved West Philly for some much-needed rest. Meaning that I chose to sacrifice a week of exploring new places in favor of relaxing at home, eating homemade meals, and playing video games. I learned throughout my first year at Bryn Mawr that self-care is sacred. Not necessarily self-care in the form of baths or celebratory sushi that are often hard to come by for certain students. But rituals of self-love that are simple and taken for granted; especially as midterm month comes and goes and the end of fall semester draws near.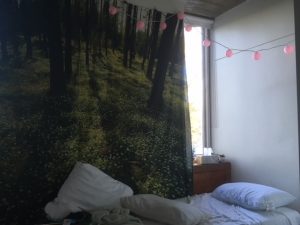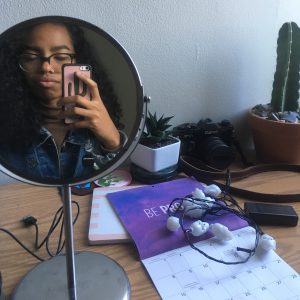 Learning on campus & in this space made for intellectual growth also means that I'll naturally grow emotionally too, and that I need to learn my own habits and become intimate enough with myself to recognize when I'm feeling anxious or disheartened or low. To know that when my muscles ache and my passion is waning I'm low on fuel and in need of self-love. I'm pretty open about my experiences with mental illness, but I'm always learning and re-learning the need to be easy on myself.
Here are some small ways that I manage feeling out of depth! These may not work for everyone, but I hope that my self-curated list can bring some inspiration to yours.
Taking showers: This may sound too obvious but bear with me! I take long showers by nature (they're relaxed things — untangle my curls, wake up, moisturize) and often forget to shower when I'm too busy, and my mornings are booked already, and my hair is better off in a bun anyway. I am also an aspiring morning person by nature & curated my schedule for the last two semesters to leave my mornings energized and open. Making time for showering is healthy. But I found that showering makes me feel both more productive and more alive, with my ritualized, loved mornings started off on a good, warm, and level note.
Taking evening or night walks: I may not always have the energy for this, but one of my favorite things about being at a historically women's college is the chance for nighttime walks. A time when campus has a calm quality about it. Having a campus where I feel relatively more safe being alone and outside at night is an element of this experience that I cherish. I also love taking late afternoon walks before sunset (especially behind Erdman and the ECC!)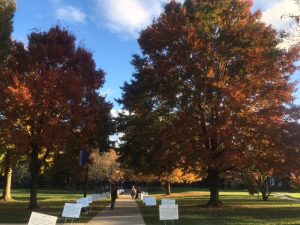 Making lists of things that made my heart warm: In a journal, in the margins of my notes, on Uncommon receipts or personal creative spaces. (I have a journal from Barnes & Noble where I write what I'm hanging hope on, when I need it.) Wherever and made up of the tiniest things — the weather was dreamy. I made my own eggs at breakfast today. I used my film camera or loved my outfit. It does wonders for my mood to remind myself that small things matter & can derive joy.
I'm experimenting with making myself honey-tea and getting nine hours of sleep and finding places off campus where I can work. Make playlists and dance around while cleaning your room! Find comfort and solidarity in friends whose energy calms you to do quiet work with. Build in breaks to get coffee with a loved one or explore a new place in town, or don't build them in and let them come naturally.