From dancing and writing to local concerts and theater productions, art, for me, has always been a form of healing when I feel like I have one foot in the dirt. Just one experiment with film photography or hour spent dancing to Marvin Gaye can remind me that I'm alive in a heartbeat, like creating is some herbal charm sent from my ancestors, dream-worlds away. I read an Audre Lorde poem. I add hip-hop dance classes to my schedule. I make mix CD's for my friends from home, colored with themed visuals.
I'm learning to be more open about my experiences. To bare my heart (and brain) in all of its complex, brown queer glory. Which, really, is just a creative way of saying that I love creating, and appreciating creation, and that art makes me happy among hours mastering academia or unearthing my mind in therapy. So here's the blog-embodiment of that: of openness and creative energy and celebration, featuring my favorite natural home-remedy put into practice.
Weird Poetry on a Tuesday Evening
Noted on a poster hanging on Bryn Mawr bathroom stalls, Leah Lakshmi enchants with words of disabled, queer, nonbinary femme of color magic. On Tuesday, March 28th at 7:40pm (for the love of Bryn Mawr time) I'm charmed into an evening of intimate realness, painted in the spaces between poetry and anecdote. Leah, author of Dirty River: A Queer Femme of Color Dreaming Her Way Home and lover of the performance art project Sins Invalid, "is a weirdo who writes about survivorhood, disability justice, transformative justice, queer femme of color lives and Sri Lankan diaspora sitting in her room." Her energy for the last ten years has gone, at least partially, towards co-creating the longest performance art tour for queer & trans people of
color in North America, Mangos With Chili. The way I understand it, by day she breaks and warms hearts as an artivist and weaver of language, while by night she witches away the pains (of loss, of mental and chronic illness, of merely existing with the identities she holds), "regrows [her] neural pathways" and creates community for those on the margins.
The way I understand it, in dreams of channeling my own disabled, queer, brown femme experiences: part-time artivist, full-time witch.
Leah reimagines disability in a way that converts pain to power. Her aura encourages candid conversation, and all of us in attendance had the opportunity to approach her after the show, purchase some of her books, and exchange words of appreciation and resonance. I bought Body Map and The Revolution Starts at Home and am planning on buying Dirty River at next chance. I'm enchanted by words that color Dirty River as "a mixtape of dreams and nightmares, of immigration court lineups and queer South Asian dance nights." Leah's words, "How do I dance with that ideation so it doesn't take me out?" stick with me even now. She was extremely sweet when I thanked her, and I'm really excited to read her work in June when I'm inevitably bored eating cherry water ice.

Cozy Thursday Spoken-Word
Thursday, March 30th was the opening night of the Lusty Cup Exhibition Series. The Lusty Cup we know and love was transformed into a creative space exhibiting student art, from realistic paintings and embroidered pieces to abstract photographs curated thoughtfully. Throughout the night, the Exhibition Series featured students performing poetry against a colorful window of string lights, as others cozied up to the hum of chatter and brewing coffee.
There's something magical about watching fellow students perform heartfelt poems, complete with hand gestures and words that are allowed entrance into your system and root themselves there. I'm a sucker for poetry in all its lovely forms, and couldn't pass up the opportunity to see my sweet friend Veronica perform up there (and be the mildly-embarrassing mom friend that is known to appear at events, shouting "Get 'em babe!!" among the noise.)
Loving Blackness
For my Multicultural Education class this semester I spent the 31st of March in the heart of Philly, observing classes at my fieldwork placement from 8am to 3pm. Low energy / sugar levels and a torrential downpour encouraged Beatrice and I to make a brief stop at Reading Terminal market to get out of the rain. Even though I'm a Philadelphia native, it had been maybe four years since I'd found myself in Reading Terminal somewhere between Chinese takeout and the smoothie stand, and recently I'd been meaning to make a trip back with my film camera to capture the neon signs and local charm.
We explored the magic of Reading Terminal for a bit before we cozied up in a creperie and ordered honey & strawberry and nutella & banana crepes. I took note of places we passed that captured my interest (promising soul food and fresh fruit and authentic honey products), and wrote myself a tiny reminder to remember my film camera next time.
At 4pm, I met under Pem Arch with the five other people who expressed interest in visiting Asian Arts Initiative's Loving Blackness exhibit. Familiar with Asian Arts from a program I participated in and an exhibit I helped curate in my junior and senior year, I felt at home in the cozy spaces that Asian Arts embodies. Upon hearing about the Loving Blackness exhibit that opened in early February and given the fact that I'm mixed Afro-Filipina, I was ridiculously excited to attend the opening and even more heartbroken when I spent that day ill and eating fruit in my room in Brecon. The chance to visit the exhibit without the hassle of train fare was a no-brainer, especially if it meant that I could return to Asian Arts.
We took a rented van into the city and to the location near Chinatown. My heart warmed when someone at Asian Arts recognized me from my project internship last May and when the weird artwork and cozy lounges felt familiar to me.
Taking advantage of our time in Chinatown and the $20 flat rate for the van that was applicable for a few more hours, the six of us agreed easily upon an evening out for dinner. I'm personally fond of Philly's Chinatown for its hidden treasures and underground market, attached to memories of mid-autumn festivals and lunar new years spent warm and exploring the streets. Having not yet mastered the art of local restaurants (regardless of the fact that I'm vaguely familiar with them), we decided upon a seemingly-new restaurant named Shangai I. We shared soup and vegetable dumplings and had a nice time getting to know one another outside of weekly, hurried ASA meetings.
Battle of the Bands
Technicolor shapes melt together, bathing the Campus Center full of movement and laughter and rich color. Students from the Tri-Co gather under vibrant lights and dance in the spaces between as they come alive with music, almost unrecognizable in the dark.
Uncommon Grounds is closed on Friday night to accommodate the celebratory Battle of the Bands, and instead of running around on my normal 10pm to closing shift I replace my Uncommon-brand hat and t-shirt with my favorite thrifted ones and make my way to the Campus Center with my friends.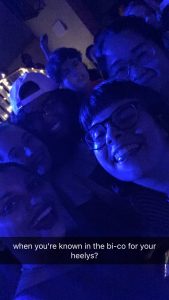 This year's line-up featured eight local bands, all including members of the Tri-Co or recent alum. By the time we arrive, well after the show had begun (due to forgotten times and 8pm trips back to Brecon from the city), Hometown Hero, Iowa Timeshare, The Marauders, Altair, and (yes, we were that late) My Chemical Platonic Friendship had already graced the makeshift stage, and we rolled in — on matching Heely's — just in time
for My Chemical Platonic Friendship's very last song: a cover of Jimmy Eat World's classic "The Middle." We exchange looks, Veronica asks, "Wanna mosh?" and we make our entrance into the crowd, moshing and laughing and dancing wildly under vibrant lights.
We step out for some air in between sets (mostly because we want to Heely around in front of the Campus Center) and are recognized as The Underground Heely Club by people from Haverford, none of whom are the least bit familiar to us. We shout excitedly to Baby Bush's punk feminist sound and hug our friend Stevie, their drummer, when they come offstage. We dance to the smooth tunes of Bazmati Vice when the iconic Kristian Sumner adds their celestial vocals. We vibe to Good Good Not Bad's pro-black, political rap and jazz blended sound, their words of healing and solidarity vibrating through the air.
A lover of local concerts and underrated music, I was reminded of how much I adore the way that shows make me feel alive. Especially with the scene that exists here in the heart of Philly, more trips into the city (my home) for performances will take special priority when fall semester rolls around.
Music, Underground
My friends and I made a last-minute decision to roll (pretty literally) into FUCS on the night of April 1st, my gold chrome Heelys caked in dirt from the walk. Knowing absolutely nothing about the artists scheduled to perform, we find our way past the laundry room and into the space, immediately met by low ceiling lights and dark, dancing shapes. Unlike my first FUCS experience captured by the graffiti-stained walls and painted strobe lights of James House, Lunt Basement is hangout-space turned underground venue, located under Lunt dorm and near a conveniently-placed coffeeshop. A performer takes the stage when we enter, and soon Lunt is alive all thanks to Sammus, a black rapper from Ithaca, New York whose hip-hop sound, full of rhythm, radiates afrofuturist, feminist, nerd energy. With a heavenly stage presence and lyrics that celebrate the complexity of blackness, Sammus is described, by the FUCS event, as:
"hip hop born from the ashes of video game design; the sharp rhetorical cut of a phd candidate; the dynamic beats to match" – some1 at vassar?
The entirety of her performance is spent dancing, the words matching the musical pulse of my black, femme heart as Sammus paints visuals of anxiety, natural hair, belonging and nerd culture weaved together with blackness as a common thread. If I had to choose one song to name as my favorite, I love "Nighttime (feat. Izzy True)" for its dreamy quality, chorus, and opening lyrics. The mentions of crippling anxiety, Hermione, and Ida B. Wells hold more personal meaning to me than I'm able to express. But needless to say, I adore Sammus and the moment during her last song where my friend Akili and I maneuvered to the front to shake her hand.