Nearing the end of the semester means encompassing all that I've learned into condensed final projects, but, to an extent, finals season also offers a chance to reflect more personally on the emotional and academic elements of being a student. How have I created meaning? How have I bloomed into understanding of myself from the experiences I've had as an intellectual and individual? How have I performed? How can I reshape? In what aspects do I wish I had done more?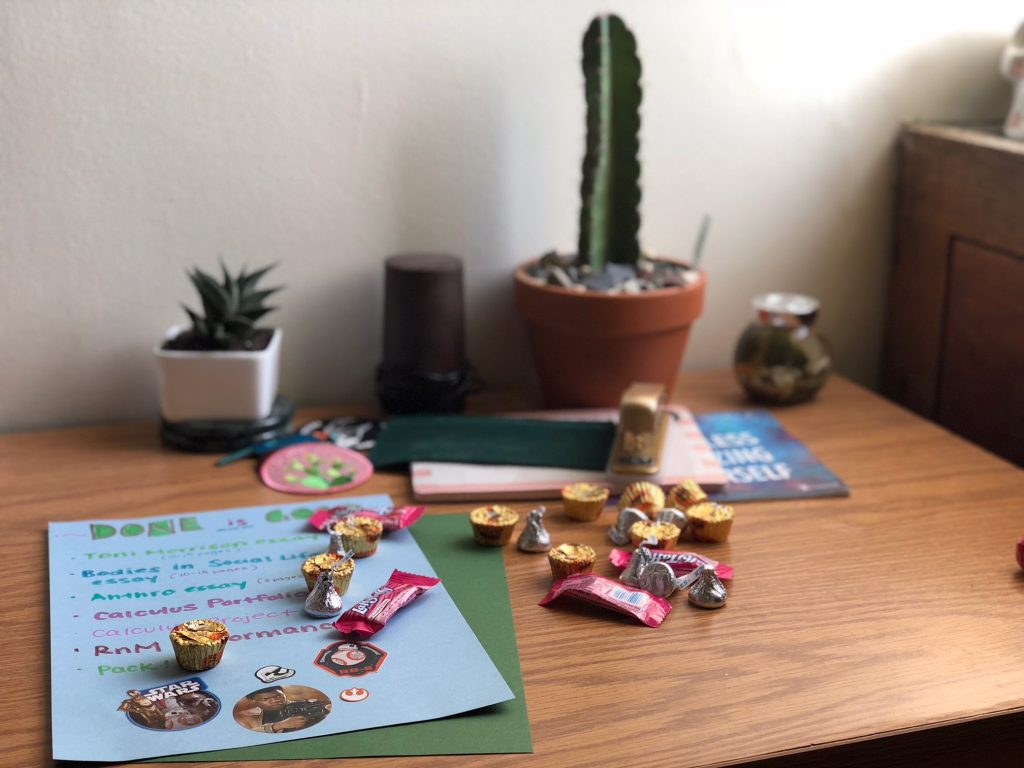 I'm awaiting the moment in my academic life when I'm not fortunate enough to have loved and felt passionate about the courses that I'm taking—my first year was full of lovely experiences exploring photography and education and women of color and poetics. This year is no different. The past semester has allowed me to re-imagine my favorite author (Toni Morrison, whom I read and loved in high school), examine a subject that envisions my future endeavors (working with children and youth in whatever capacity imaginable), and explore a topic that captures a lot of my interests (the sociology of bodies, and whatever that may mean). But much like past semesters, my studies have come with their own unique challenges that re-established my emotional boundaries; my energy waned with each blow to my mental health & I re-learned the realistic parameters to my performance. My passion & motivation often felt at odds.
My English course entitled "Toni Morrison and the Art of Narrative Conjure" nourished my need for an exploration of blackness & my love for poetic analysis all at once. I had the chance to re-read two of my favorite books, Beloved and Song of Solomon and fulfill my dream of reading the rest of Morrison's works in a way that allowed for conversation. Professor Linda-Susan Beard is a performance artist in her own right. Her enchanting way of speaking and inclusion of black histories and creative concepts brought in so many elements at the core of Morrison's heart. The room itself was full of artists and masters of language. Being there emphasized, and eventually solidified, my need to surrender my own stubborn nature & double major in English.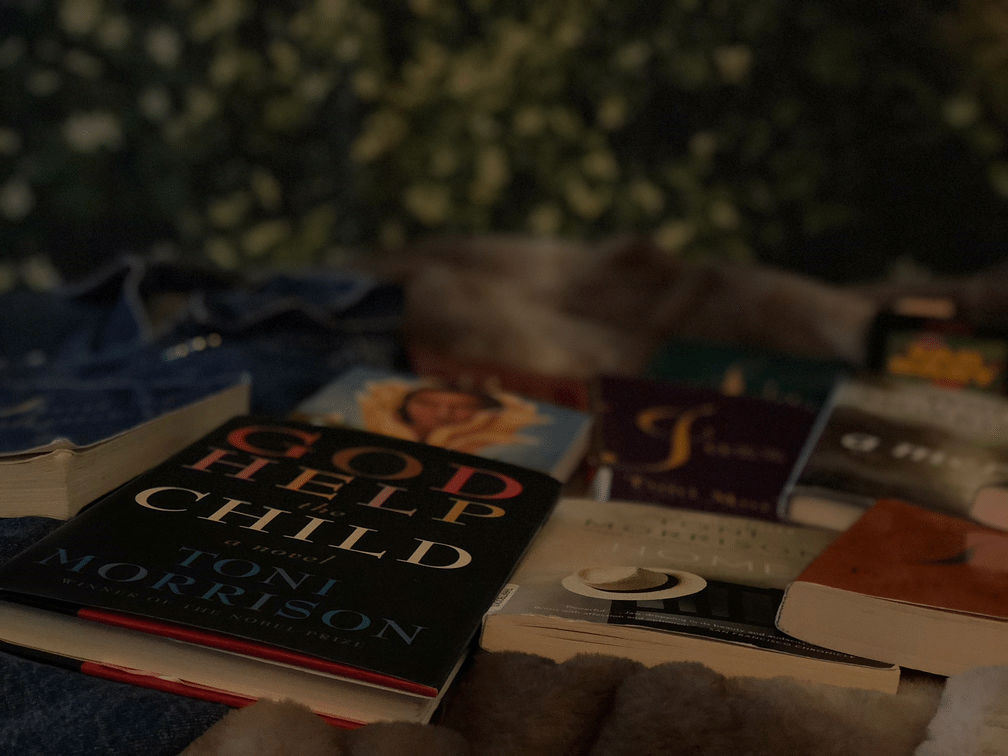 I could spend hours talking about each of Morrison's pieces and her exploration. Of motherhood. Of blackness. Of heritage and local histories, inherited through trauma. Of magic and witches and spirituality. Of death and water. Of home. Of youthful sisterhood and women trying to love one another. Of color. Of intimate, emotional violence. But also the toll of reading one novel after another, all of them intimate to my own history and body and having no time for recuperation was more than I had expected. The coalescence of healing and heartbreak that is characteristic in Morrison's work manifested in how I was able (or unable) to approach the material.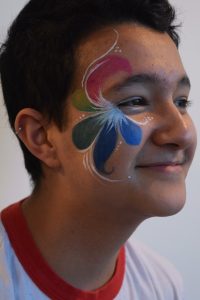 I'm working on my final Pilate Project (named for one of my most-loved characters in literature), where my sweet friend Hannah Chinn ('19) paints on the faces of people of color while we ask them about their relationship to history, memory, race, and family through the colors they ascribe feeling to. The element of narrative conjure feels important. I'm taking film & digital photos of each person after their face is painted, and piecing Morrison's God Help The Child into her body of work through an essay on how it encompasses elements of her signature. (On the left: Stevie Campos-Seligman, Haverford '20,  a dear sweet friend and fellow member of the Toni Morrison class!)
The easiest part of coming to my once a week Bodies in Social Life course was definitely the laughter and spirits of the people with whom I shared the space. Made up of all upperclassmen (with me being the only sophomore), the class felt extremely collaborative and encouraging of confusion; our professor Piper Sledge constantly emphasized the importance of us being easy on ourselves and was always open to ideas that would better accommodate our learning from the moment they crafted the curriculum around our discussed interests. We explored the sociology of bodies from embodiment theory: how do we inhabit our bodies and how do social locations become embodied? What meanings are embedded in certain body practices from body modifications to various forms of surgery? How do we think about visuality, authenticity, wholeness and "the self" in conversation with the way we treat bodies in society?
I wrote my midterm paper on the culture of tattooing and how marginalized bodies that are already visually marked negotiate the creative and meaning-making elements of body projects. I'm most likely writing my final paper on ambiguous bodies, how they inhabit space, and the reconciliation of ambiguity that manifests through the readings we've examined this semester.
Professor Leigh Campoamor teaches the Anthropology of Youth and Childhood course, where we complicate how childhood is imagined by recognizing the multiplicities of experiences that different childhoods hold. We have conversations about exercising agency, performance of an expected childhood, children as laborers, organized aid interventions, and issues of race, class, geography, gender, sexuality, and the realm of politics within the histories of neoliberalism, capitalism, and colonialism.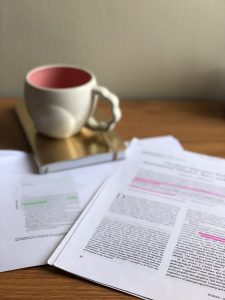 One of my most notable moments in this class was the class discussion I co-led on themes of citizenship & belonging, emphasized through a chapter of Aimee Cox's Shapeshifters: Black Girls and the Choreography of Citizenship and two chapters from Sunaina Maira's book Missing: Youth, Citizenship, and Empire after 9/11. Both involved an element of self-reflexivity that I've always loved reading in my academic work, and so I was enthusiastic about creating a conversation with my peers. To capture all that I've learned for this course, I am writing my own self-reflexive ethnography on how certain memorable readings emphasize my own experience of negotiating childhood and youth. Professor Campoamor encourages all of us to be creative.
I've written a culmination of thoughtful, weekly journals for all three of these courses. Often, too, the ideas melted together with embodied meanings appearing in Morrison's work and imaginations of childhood, or notions of space and belonging threading through the three. The more time I spend here, the more I realize that I'm happiest with a liberal arts education, where all of my passions & ideas can fulfill me and be fulfilled.